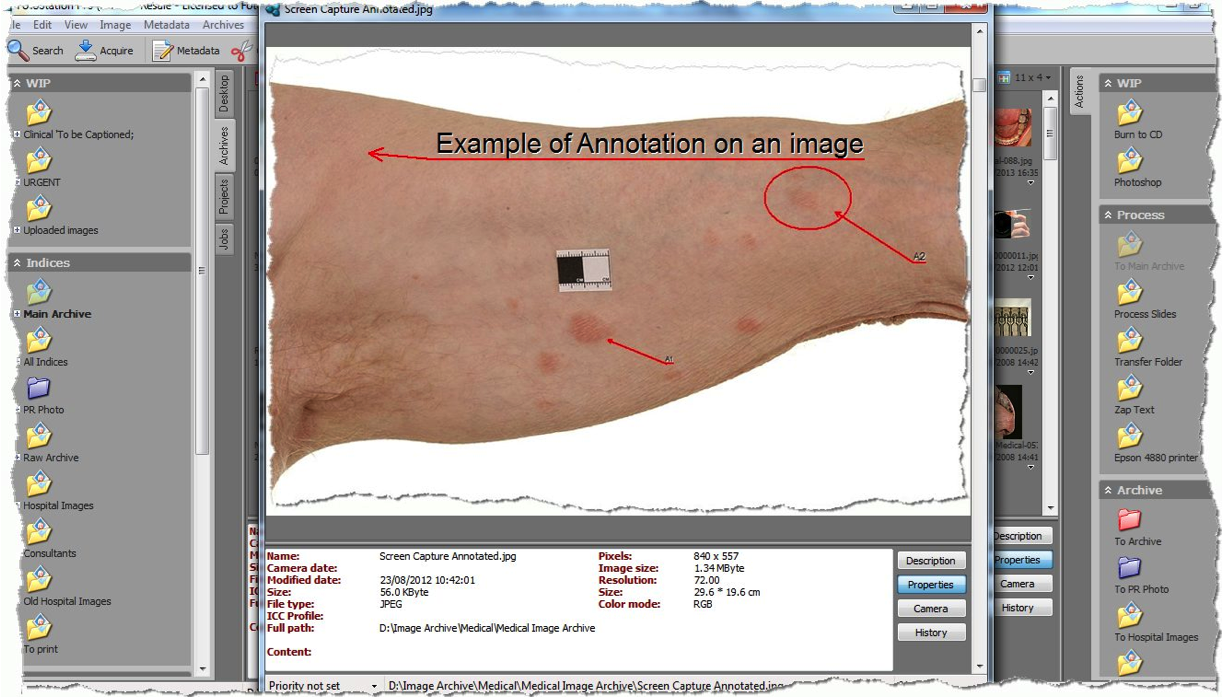 Fotoware is an image management system based on image indexing, it is not a database, it's completely scalable from a single workstation to a multi-site international enterprise.
At no point is your data placed in proprietary formats, and it is easily transferable to other systems.
Setting up for Medical use is entirely done using the inbuilt customisation features, no special coding is required.
Fotoware is a continuously developed product used by thousands of organisations around the world.
The workflow is designed for photographers, with in built facilities for image processing etc., either individually or by batch.
Web-based image viewing provides a simple clear interface for consultants, on all connected platforms, including iPads.
An iPhone, iPad and Android app. is also available.
Built in customisation versus custom coding.
FotoWare software is entirely customisable to your way of working using its built in customisation features. No custom coding is necessary. Because of this, if you have a Software Maintenance Agreement, new developments in the software become immediately available to you. Other solutions that use custom coding, mean that you need your own version of updated software, updates are often delayed or expensive, or even unavailable to you at all. Beacsuse Fotoware is used by thousands of organisations around the world in the rapidly changing environment of photography and Media distribution, new developments are frequent. Fotoware is compatible with most image file types, and can index display, and provide thumbnails for RAW files from most professional cameras.
FotoWare comes with standard tools to link to PAS/HIS.
In order to offer the best support, Anova have partnered with Xenario UK who have been configuring and supporting FotoWare installations for over 10 years, because of FotoWare's approach and Xenario's experience we are able to offer solutions that are extremely cost effective.
There will be many benefits to the trust a few of which include :-
Significant improvement to data protection through role based access and consent level based access
By using the powerful permissions driven software that FotoWare software employs we are able to ensure that images are protected by only allowing access to sensitive images via a combination of Active Directory groups or individuals and software permissions setting.
Improvement in patient care, by delivering rapid access to images by consultants and clinicians
FotoWare software is very fast when a workflow is in place to store and notify when images are available. The time from photograph to system viewing is dramatically reduced when this workflow is in place. Hence the patient experience is enhanced and the consultants are able to concentrate on diagnosis rather than administration.
Reduction in print costs and invisible costs such as filing and exposure to litigation
By using the print on demand system for clinical staff and consultants the cost saving on paper is apparent. High quality on screen images for diagnosis can be seen without the need to print.
Improved data quality by interfacing
It is important to only enter data once and share this information with the consultants through common interfaces. FotoWare software ensures that the demographic data is used as a reference for all clinical images.